Buy on Quality or Style?
Think about the mindset you have when buying gear

When you buy a new pair of shoes what do you look for? Maybe the style, color, fit? Or do you care more of how long they will last you? The same mindset goes for sports gear, especially volleyball. Since it's already February and our school volleyball season has ended. Club volleyball players at Wauconda High School were asked which brand they like best. This seems to be a huge argument in the volleyball world on which brand is better to play in. It's always between Adidas, Nike, Under Armour, Mizuno, Asics, and many others. Everyone has their own opinions on if we should be buying, how we feel in the products, or how eduring they are. All of the people below are from various clubs including Sky High, Rolling Thunder, TopFlight, and VC United.

Style can be a huge factor particularly when you play for a club who requires you to wear a certain brand. Same thing goes for it fitting well too. When you look good you play good! Freshman, Ava Thurler, who plays for Rolling Thunder Volleyball Club would pick Mizuno for her brand of choice. "Rolling Thunder has us wear it, but I like their stuff. I've never had a problem with them. It fits well and it's super comfy to play in." You can't beat feeling comfortable while playing! One of our seniors, Delaney Lemay, who belongs to VC United, would pick Adidas. "I think they're the most comfortable out of all the brands I've had over the years. Adidas is really supportive and they look good on the court." Delaney and Ava are both interested in how comfortable they are when they play, then they care how they look. Now both details are pretty big factors but are they bigger than quality and support?
I know when I see a new shoe I first see how it looks then see how long it will last me. This skill comes with age and some of these players already have that quality. Senior, Mikayla Zacharais, plays for Rolling Thunder Volleyball Club, and she's rocking with Adidas. "The shorts actually fit and their shoes are really supportive for my ankles on top of my ankle braces. The knee pads actually have padding and help cushion my dive". Mikayla looks for the support and durability of her gear. She cares more if it will soften her dive rather than if she looks cute in the photos Jon Zacharais takes. Now don't get me wrong, looking good and feeling good are still important, but are they the thing you look most for? Another Freshman, Landon Lemay, plays for Sky High Volleyball Club and he would choose Mizuno. He claims, "there is no stronger brand, Mizuno is just better than the others. Nike is terrible quality all around and Adidas is everywhere. I would recommend Mizuno if you were looking for a new brand." Having a huge following is a good thing for a brand. Though when there's a following that also comes with a ton of reviews, good and bad. This is what Landon is getting at. Those bad reviews can consist of blisters on the heels or spandex not fitting right. Kelsey Hitcho, a sophomore at WHS who plays for Rolling Thunder Volleyball Club says she prefers to wear Nike out on the court. Here's her take on it, "I feel like Nike has better shoes that hold up longer than other brands. Their shoes have good grip and I don't get blisters. Plus their spandex fits a lot better and doesn't ride up." As a volleyball player myself nothing is more relatable than finding the right spandex! Interesting how Kelsey prefers Nike and Landon believes their quality is terrible. 
Most players have been with their club for so long that they have always liked what gear they've gotten. Sophomore Sky High player, Shawn Stonis, would pick Adidas as his favorite brand to play in. Shawn says, "We're sponsored by them and they're the best". I may be a little biased to this quote, but it's true! Adidas does have some good stuff, though is it the best out there? Junior at WHS, Emily Lisi, plays for Sky High Volleyball Club and she would pick also Adidas over the others. "I've only ever played in Adidas for my club, but I like the way the shorts and everything fits. I think it's a good brand and it lasts a long time." It's rare to find a brand that survives high school and club season! You almost always need something new after these seasons. Another Junior, Madison Schippel, who plays for TopFlight Volleyball Club would also choose Adidas for her favorite brand to play in. "I've only played in Adidas and I've never had a problem with them. I don't get blisters or anything either. The only thing is people I know have worn their shoes down from dragging their toe when they serve, but I don't have a problem with mine." Maybe they should break that habit.. Even though they've all played in the same stuff doesn't mean it's a bad thing. You have to find what works for you!
Leave a Comment
Your donation will support the student journalists of Wauconda High School. Your contribution will allow us to purchase equipment and cover our annual website hosting costs.
About the Contributor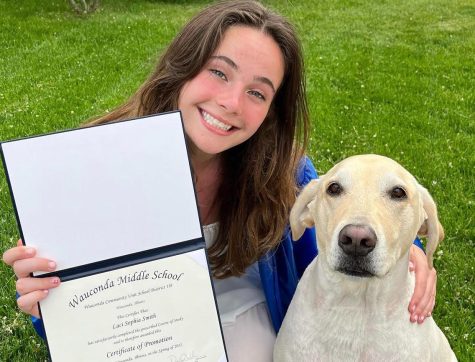 Laci Smith
Laci Smith is a freshman at Wauconda High School who loves to be in the gym and outside playing with her dogs. Apart from being involved at school, Laci...