Ingrained in the membrane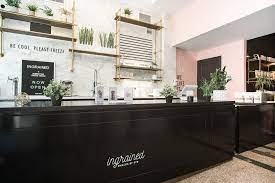 Located on the west side of Chicago is a small vegan bakery called Ingrained. It's a small vegan/gluten-free bakery, but they have so many healthy desserts and baked goods options. It's a small bakery, but it's still colorful. Now, I'm not someone who is vegan, but I think that most of the time their desserts taste really really good.
A positive side of Ingrained is that their food is vegan and gluten-free meaning that it's healthy for people to consume. Another plus side is that you can order ahead of time online or you can go in and order in the shop. They have a variety of food options ranging from superfood bars, such as Reese's Oreo Blizzard bars and Apple Oat Crisp which I would highly recommend even though I didn't get it, to even baked goods such as bagels, banana bread, and flatbread. The bakery has such a colorful selection of food for sale and it always looks delicious. Sometimes, besides normal bar flavors like cookie dough, they had one that was called Cookie Monster. It was my favorite because it was so sweet and I just couldn't think of anything that would taste better.
The only downside of the bakery is that it's only open from 3 pm to 8 pm, but it'll sometimes open earlier or stay open later. Most of the time people never know how early or how late it'll open. In addition, Ingrained is only located in Chicago so, if you live in Illinois, or anywhere far from Chicago, it can be hard to try their foods. Finally, even though they have great food, the pricing on it is expensive. Typically, if you buy two items the total will be around 18 to 20 dollars. A singular superfood bar is eight dollars meaning it's around 17 with tax for two which is a little too expensive for two dessert bars. 
The menu options for Ingrained are, typically, extremely good. Even though the food choices do change every day, their menu never fails to top the day before. The menu for this weekend was so interesting. Ingrained's menu last weekend had a Black Cherry Chocolate Chip superfood bar, an Apple Oat Crisp bar, Birthday Cake energy balls, Cookie Dough cups, Iced Rainbow Cookies, and bagels. Although their menu changes daily, anything you get on the menu will taste amazing. My mom and I usually get a lot so we can try all the different superfood bars. It doesn't matter which one it is, they are all super good.
Leave a Comment
Your donation will support the student journalists of Wauconda High School. Your contribution will allow us to purchase equipment and cover our annual website hosting costs.